QUAFF Financial Binding Machine (CD-400)

*This heavy-duty binding machine can do "punching" & binding" perfectly. Very safe machine because if its "buzzing alarm techology" that alerts/notifies the user if the binding is finished. Elegant design & save space when you place it in your business. Popular machine & very suitable in business, offices, school or even at home.*
*FEATURES*
►Full-metal drive structure, top solid.
►Strong and powerful steel construction
►Binding buzzing reminding.
►Margin adjusted from front, user-friendly.
►Large tube bin, avoid cut tube droping out
►Well designed waste bin, easy cleaning.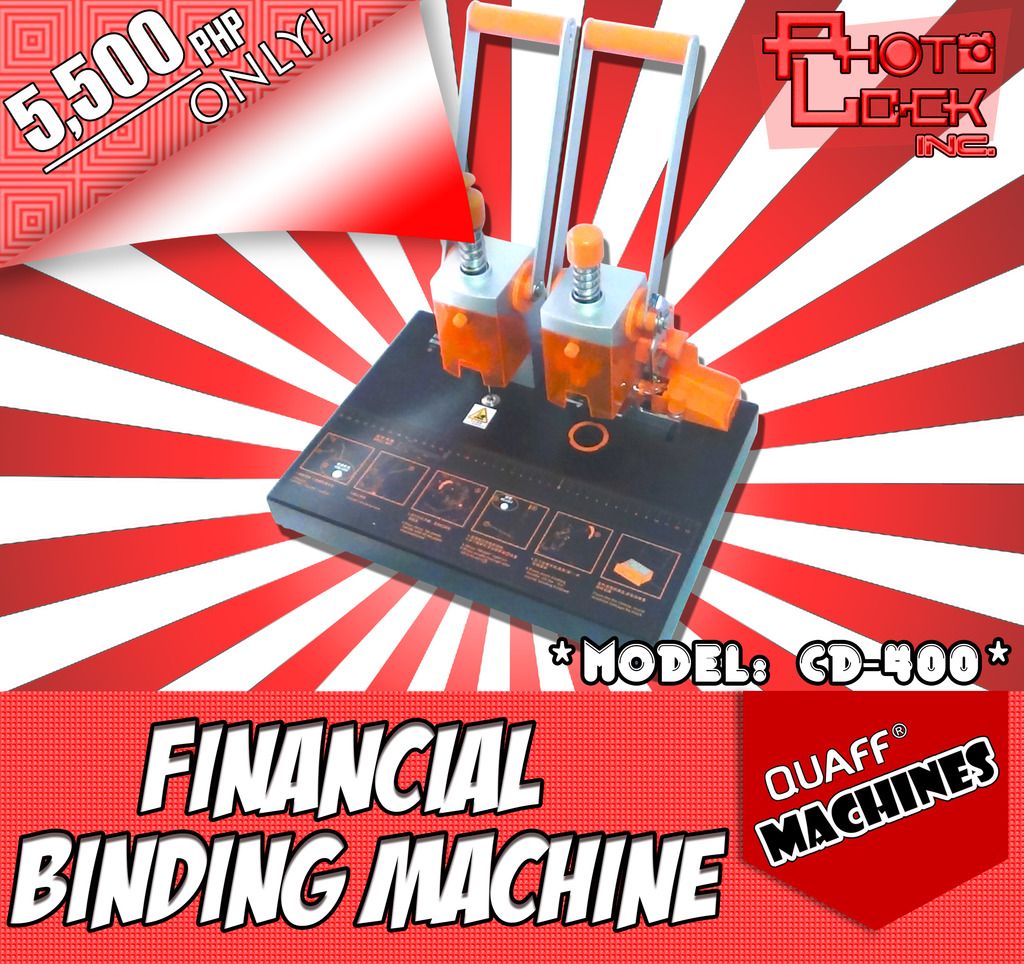 Can be used to create home-printed novels, cookbooks, calendars or even textbooks that can be use in school and also in office. Great tool in filing a report rather than stapling it.
*SPECIFICATIONS*
►Max. Punching/Binding: 40mm
►Hole (diameter): 5mm
►Margin: 10-25mm
►Power: 120W
►Binding Tube (diameter): 4.8mm
►Voltage: 100-240V 50/60 Hz
•OPERATING INSTRUCTION:
1. Plug into a power source, turn on the power switch, you can hear a buzzer sounds.In the meanwhile, the power indicator on the Display panel are illuminated.
2. Press the ON/OFF switch (on the display panel), the Standby indicator is off, and the Ready indicator is in RED. The forming heads are being heated up.
3. It will be ready for binding documents after 3 minutes, the Ready Indicator is in GREEN.
WARNING: DO NOT TOUCH TWO FORMING HEADS. OTHERWISE YOUR FINGERS WOULD BE INJURED.
4. Insert a Nylon tube into the Tube entry . Put the documents under the Drill bit adjust the position of drilling hole. Press down the handle of punching until the Drill bit touching the pad. Model CD-400: It would sound a beep sound after the Drill bit touches the pad.]
5. Take a short Nylon Tube from the tube tray and insert into the whole just drilled.Move them to the left and place the nylon tube between two Forming heads.
6. Insert the Location pin through the Nylon Tube, Press down the Handle of binding about 3 seconds and lift up after hearing beep sounds.
7. The documents is bound well.
8. The machine has a funcion of Energy Saving. If there's no movement of binding within 25 minutes , or Press ON/OFF switch (on display panel)for 3 seconds the machine will be in the mode of working, operate it according to point2. and 3.
9. You also can operate easily under the instruction of figures on the workbench. We strongly suggest to empty the waste bin timely in order to avoid being damages by stuck.
The voltage is specified on the main label. Before connecting the unit, make sure that the voltage marked on the main label complies with city power voltage. Turn off the main switch when not in use.
•SAFETY INSTRUCTION•
The safety recommendations outlined in this section should be read and understood before operating this machine. When using this machine follow these basic safety precautions to reduce risk of fire, electric shock or injury. Keep this information for future reference.
CAUTION:
•Never punching paper over the permitted capacity each time. Otherwise it could damage the machine.
•Never punching any material (such as moist paper, fabric,glass, metal,material, etc.) except dry paper. Otherwise it could damage the machine.
Inquire Here or use the Live Chat.
Your Full Name:
Your Inquiry:
Verification Code:
For security purposes, please enter the Verification code in the box below: